Each Trilencer-27 siRNA kit contains Dicer-Substrate duplexes that provide two critical improvements over the use of traditional 21mer siRNA designs. 27mer siRNA takes advantage of the natural processing by Dicer producing 10-fold higher potency and specificity than shorter 21mer forms. 27mer siRNA duplexes also evade the radar of the mammalian interferon response when expressed in mammalian cells and initiates strong and specific gene silencing.
Test our Trilencer-27 siRNA kits to provide a proof of concept for your research theory by knocking your gene of interest down. Order yours today!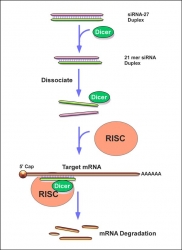 Key Features and Benefits
Genomewide coverage against human, mouse and rat
27mer Dicer-substrate duplex-higher potency and minimal interferon response
Guaranteed gene knockdown (≥70%) *
The kit includes 3 gene-specific siRNAs and 1 negative control
Promotion Details
Click here to go to the the searchable and filterable collection of all Trilencer-27 siRNA kits.

The discount code "siRNA20" must be presented at the time of order.
The promotion is valid from May 1st to June 30th, or while supplies last - take advantage today! **

To find out more about siRNA, please visit http://www.origene.com/siRNA/
Terms and Conditions
*We guarantee that at least two of the three Dicer-Substrate duplexes in the kit will provide at least 70% or more knockdown of the target mRNA when used at 10 nM concentration by quantitative RT-PCR when the TYE-563 fluorescent transfection control duplex (cat# SR30002) indicates that >90% of the cells have been transfected and the HPRT positive control (cat# SR30003) provides 90% knockdown efficiency. For non-conforming siRNA, requests for replacement product must be made within ninety (90) days from the date of delivery of the siRNA kit. To arrange for a free replacement with newly designed duplexes, please contact Technical Services at techsupport@origene.com. Please provide your data indicating the transfection efficiency and measurement of gene expression knockdown compared to the scrambled siRNA control (quantitative RT-PCR data required). For complete details, please visit http://www.origene.com/siRNA/Guarantee_Statement.html.
**The promotion is for both online and offline orders as long as the discount code is presented or entered at the time of order. Offer is not available for custom orders or service projects.
Discount will apply to qualifying siRNA orders received by Acris Antibodies – OriGene Europe no later than June 30, 2017, or until promotional supplies are depleted, whichever comes first. Customer can use the promotion code only once per order. Discount applies to the list price in effect at the time the order is received. Cannot be combined with other discounts or promotions. Offer void in where prohibited, licensed, or restricted by federal, state, provincial, or local laws or regulations or agency/institutional policy. Other restrictions may apply.
©2017 OriGene Technologies Inc. All trademarks are the properties of OriGene Technologies and its subsidiaries unless otherwise specified.
For Research Use Only. Not for use in diagnostic procedures.