Antibodies to Vascular Endothelial Growth Factor Receptor (VEGFR) Family: VEGFR-1 antibody, VEGFR-2 antibody and VEGFR-3 antibody - FocusOn 005
Within the last ten years strong evidence has emerged for the essential role of Vascular Endothelial Growth Factor (VEGF) in vasculogenesis and angiogenesis. The development of blood vessels includes two processes. Vasculogenesis is the embryologic formation of blood islands, the earliest vascular system, by the differentiation from mesoderm of angioblasts and hemopoietic precursor cells. Angiogenesis is the sprouting of pre-existing vessels to form the vascular tree. In addition to a key role in embryological development, angiogenesis is essential for such things as wound healing and tumor growth. While many growth factors exhibit angiogenic activity (FGFs, PDGF, TGF-α and HGF), evidence points to a special role for VEGF. VEGF is a dimeric glycoprotein that stimulates endothelial cells, induces angiogenesis and increases vascular permeability.
VEFG

Receptor (

VEGFR

)

The receptors for VEGF are VEGFR-1 (Flt-1) and VEGFR-2 (KDR in humans and Flk-1 in mice). Homozygous mutants of the VEGF receptors lead to lack of vasculogenesis and death of mouse embryos at about day 8, indicating that VEGF receptors are essential for formation of a normal vasculature. In addition to VEGF (VEGF-A) there exist three additional VEGF family members: VEGF-B, VEGF-C and VEGF-D. Less is known about the function and regulation of VEGF-B, -C, and -D, but they do not seem to be regulated by the major pathways that control VEGF-A. VEGF-C and D are ligands for VEGFR-2 but also for the third VEGF Receptor VEGFR-3 (Flt-4), whereas VEGF-B binds only to VEGFR-1.

Like other growth factor receptors, upon ligand binding VEGFR-2 dimerizes and is autophosphorylated on multiple tyrosine residues. These phosphotyrosine sites are involved in regulation of intrinsic tyrosine kinase activity or serve as binding sites for SH2 domains and phosphotyrosine binding (PTB) domains of downstream signaling proteins.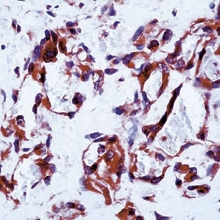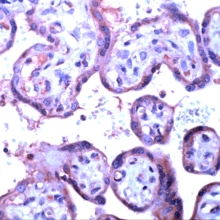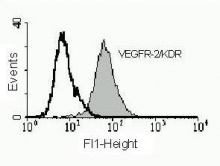 Primary Antibodies
Catalog No.
Host
Iso.
Clone
Pres.
React.
Applications

DM3502

Mouse
IgG1
KDREIC
Purified
Hu
C, E, F, WB

OriGene Technologies GmbH

+3 additional images

Highly validated antibody!

DM3522P

Mouse
IgG1
4H3
Purified
Hu
E, F, ICC/IF, WB

OriGene Technologies GmbH

+4 additional images

Highly validated antibody!

DM3523P

Mouse
IgG1
4 (20I6)
Purified
Hu
C, E, F, ICC/IF, WB

OriGene Technologies GmbH

+4 additional images

Highly validated antibody!

DP3509

Rabbit
Azide Free
Hu
C, E, FN, IP, WB

OriGene Technologies GmbH

+4 additional images

Highly validated antibody!

DP3509P

Rabbit
IgG
Aff - Purified
Hu
E, F, FN, ICC/IF, IP, WB

OriGene Technologies GmbH

+5 additional images

Highly validated antibody!

DP3509S

Rabbit
Azide Free
Hu
C, E, FN, IP, WB

OriGene Technologies GmbH

+4 additional images

Highly validated antibody!

AM06371SU-N

Mouse
IgG1
4B4
Ascites
Hu
E, F, ICC/IF, WB

OriGene Technologies GmbH

+2 additional images

AP26034PU-N

Rabbit
IgG
Purified
Hu
ICC/IF, WB

OriGene Technologies GmbH

+1 additional image

AP26035PU-N

Rabbit
IgG
Purified
Hu, Ms
WB

OriGene Technologies GmbH

DM3502B

Mouse
IgG1
KDREIC
Biotin
Hu
C, E, F, WB

OriGene Technologies GmbH

DM3522B

Mouse
IgG1
4H3
Biotin
Hu
E, F, WB

OriGene Technologies GmbH

DM3523B

Mouse
IgG1
4 (20I6)
Biotin
Hu
C, E, F, ICC/IF, WB

OriGene Technologies GmbH

DP076-05

Rabbit
Purified
Hu, Ms, Rt
P

OriGene Technologies GmbH

DP3509B

Rabbit
Biotin
Hu
E, FN, IP, WB

OriGene Technologies GmbH

DM3504

Mouse
IgG1
FLTEWC
Purified
Hu, Ms
E, ICC/IF, IP, WB

OriGene Technologies GmbH

+3 additional images

Top Selling product!

Highly validated antibody!

DM3507

Mouse
IgG1
FLTEWI (EWI)
Purified
Hu, Ms
E, ICC/IF, IP, WB

OriGene Technologies GmbH

+5 additional images

Highly validated antibody!

AP54509PU-N

Rabbit
Ig
Purified
Hu
F, P, WB

OriGene Technologies GmbH

+2 additional images

DM3504B

Mouse
IgG1
FLTEWC
Biotin
Hu, Ms
E, IP, WB

OriGene Technologies GmbH

DM3505

Mouse
IgG1
FLTEIC
Purified
Hu
E, F, ICC/IF, WB

OriGene Technologies GmbH

+1 additional image

DM3506

Mouse
IgG1
FLTEWF
Purified
Hu, Ms
E, ICC/IF, IP, WB

OriGene Technologies GmbH

+1 additional image