Antibodies to p53 and p53 Interacting Proteins - FocusOn 129
Selected Antibody Tools for the Detection of p53 and p53 Interacting Proteins
OriGene Technologies offers a wide range of antibodies to p53 and p53 interacting proteins for various applications like Immunoprecipitation, Immunohistochemistry, ELISA or Western blotting (including phospho-specific antibodies). P53 control peptides are also available (see Product list).
p53
Cellular tumor antigen p53 is also called tumor protein p53 (TP53) or transformation-related protein 53 (TRP53). p53 acts as a tumor suppressor in a wide variety of tissue types, and is involved in regulating cell growth, replication and apoptosis. p53 is mutated in approximately half of all human malignancies including breast, colon and lung cancers. Li-Fraumeni syndrome (LFS) is a genetic autosomal dominant cancer syndrome – a rare disorder that greatly increases the risk of developing several types of cancer, particularly in children and young adults; the majority of LFS (~ 70 %) is caused by mutations in p53. In normal, undamaged cells, p53 is rapidly degraded. Treating cells with a variety of DNA damage-inducing agents induces a transient accumulation of p53 protein and activates it as a transcription factor. Human p53 protein has been shown to be phosphorylated at several N-terminus and C-terminus sites that in vitro affects site-specific DNA binding and interaction with other cellular and viral proteins. Serines 6, 9, 15, 20, 33, and 37 phosphorylation occurs after cells are exposed either to ionizing radiation or to UV light. Ser6 and Ser15 were demonstrated to be one of the strongest and earliest phosphorylated sites in response to DNA damage-induced posttranslational modifications.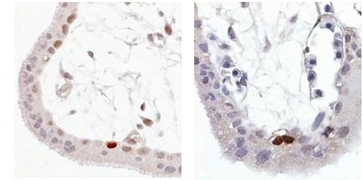 p53AIP
The p53 tumor-suppressor protein can induce apoptosis through transcriptional activation of several genes. p53-regulated apoptosis-inducing protein 1 (p53AIP) was identified through direct cloning of p53 binding sequences from human genomic DNA. Its expression is inducible by p53 following p53 phosphorylation on Ser46 (Oda, 2000). Ectopic expression of p53AIP leads to apoptotic cell death.
p53DINP1
A p53 inducible gene was identified and designated p53DINP1 (p53-dependent damage-inducible nuclear protein 1) and SIP (for stress induced protein) in human and mouse. A p53DINP1 antisense oligonucleotide inhibits and overexpression of p53DINP1 enhances Ser46 phosphorylation of p53, induction of p53AIP1, and cell death induced by DNA double-strand breaks (Okamura, 2001). p53DINP1 may regulate p53-dependent apoptosis through phosphorylation at Ser46 and induction of p53AIP1. p53DINP1/SIP is expressed in many tissues and induced by a variety of stress agents including UV stress, mutagenic stress, heat shock, and oxidative stress (Tomasini, 2001).
p53R2
p53-inducible ribonucleotide reductase (RR) small subunit 2-like protein was identified as a RR gene which is directly regulated by p53 protein in the G1 and G2 phases of the cell cycle supplying nucleotides to repair damaged DNA.
Key references
Boularan C et al: Beta-arrestin 2 oligomerization controls the Mdm2-dependent inhibition of p53.
Proc Natl Acad Sci U S A, Nov 2007; 104(46): 18061-6. PMID17984062
Hideki H et al: Infrequent alteration in the p53R2 gene in human transitional cell carcinoma of the urinary tract.
Pathobiology 2004; 71: 103-106. PMID14707445
Oda Ket al: p53AIP1, a potential mediator of p53-dependent apoptosis, and its regulation by Ser-46-phosphorylated p53.
Cell, Sep 2000; 102(6): 849-62. PMID11030628
Okamura S et al: p53DINP1, a p53-inducible gene, regulates p53-dependent apoptosis.
Mol Cell, Jul 2001; 8(1): 85-94. PMID11511362
Poeta ML et al: TP53 mutations and survival in squamous-cell carcinoma of the head and neck.
N Engl J Med, Dec 2007; 357(25): 2552-61. PMID18094376
Stagno D'Alcontres M et al: Lack of TRF2 in

ALT

cells causes

PML

-dependent p53 activation and loss of telomeric

DNA

.
J Cell Biol, Dec 2007; 179(5): 855-67. PMID18056407
Tomasini R et al: Molecular and functional characterization of the stress-induced protein (

SIP

) gene and its two transcripts generated by alternative splicing.

SIP

induced by stress and promotes cell death.
J Biol Chem, Nov 2001; 276(47): 44185-92. PMID11557757
Primary Antibodies
Catalog No.
Host
Iso.
Clone
Pres.
React.
Applications

AP07728PU-N

Rabbit
Aff - Purified
Hu
P, WB

OriGene Technologies GmbH

+1 additional image

AP07718PU-N

Rabbit
Purified
Hu
P, WB

OriGene Technologies GmbH

AP00101PU-N

Rabbit
Purified
Hu, Ms, Rt
P, WB

OriGene Technologies GmbH

AP07510PU-N

Rabbit
Aff - Purified
Hu, Ms, Rt
P, WB

OriGene Technologies GmbH

AM03100PU-N

Mouse
IgG1
FP3.2
Aff - Purified
Hu
P, WB

OriGene Technologies GmbH

Published recently!

AP08001PU-S

Rabbit
Aff - Purified
Hu, Ms
P, WB

OriGene Technologies GmbH

+1 additional image

Published recently!

BM4079S

Mouse
IgG2a
BP53-12
Purified
Hu, Prim
C, E, ICC/IF, IP, P, WB

OriGene Technologies GmbH

Published recently!

AM00101PU-N

Mouse
IgG1
9F4
Purified
Hu
E, WB

OriGene Technologies GmbH

AM09102PU-N

Mouse
IgG2a
Bp53-11
Aff - Purified
Hu
C, E, ICC/IF, IP, P, WB

OriGene Technologies GmbH

AP02390PU-N

Rabbit
Aff - Purified
Hu
ICC/IF, P, WB

OriGene Technologies GmbH

+2 additional images

AP02390PU-S

Rabbit
Aff - Purified
Hu
ICC/IF, P, WB

OriGene Technologies GmbH

+2 additional images

AP02392PU-N

Rabbit
Aff - Purified
Hu
ICC/IF, WB

OriGene Technologies GmbH

+1 additional image

AP02392PU-S

Rabbit
Aff - Purified
Hu
ICC/IF, WB

OriGene Technologies GmbH

+1 additional image

AP02393PU-N

Rabbit
Aff - Purified
Hu
ICC/IF, P, WB

OriGene Technologies GmbH

+2 additional images

AP02393PU-S

Rabbit
Aff - Purified
Hu
ICC/IF, P, WB

OriGene Technologies GmbH

+2 additional images

AP08001PU-N

Rabbit
Aff - Purified
Hu
P, WB

OriGene Technologies GmbH

+1 additional image

AP08002PU-N

Rabbit
Aff - Purified
Hu
WB

OriGene Technologies GmbH

AP08002PU-S

Rabbit
Aff - Purified
Hu
WB

OriGene Technologies GmbH

AP08003PU-N

Rabbit
Aff - Purified
Hu
ICC/IF, WB

OriGene Technologies GmbH

+2 additional images

AP08003PU-S

Rabbit
Aff - Purified
Hu
ICC/IF, WB

OriGene Technologies GmbH

+2 additional images